Informazioni personali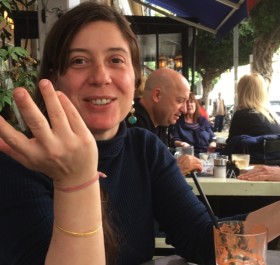 Elena Mucciarelli
Ricercatore a tempo determinato
Hebrew University, Martin Buber Society of Fellow
Elena Mucciarelli is Research Fellow at the Martin Buber Society, Hebrew University.
After getting a PhD in Indic and Tibetan Studies from the University of Turin (2011), she has been research assistant at Univerisità degli Studi di Cagliari (2012-13) and at the University of Tübingen (2016-17), as well as a research fellow within the German-Israeli Project on Kerala living Sanskrit theater (2015-16). In 2014-15 she has been principal investigator in the research project "Kings of the Wild: The Re-use of Local and Vedic Elements in the Legitimation Process of Medieval Karnataka", financed by DFG and carried out at the University of Tübingen.
Her interests focus on the cultural history of South India using a holistic approach that brings together textual, oral, and visual materials and different disciplinary approaches (philology, anthropology, media studies). Currently she is working on the narratives of power and the strategic usage of media in 12th-14th centuries Karnataka. She is also studying the ritual aspects in the performative tradition of modern Kerala. Her areas of expertise are: Old Indian ritual and poetic tradition (Vedic); Medieval inscriptions and courtly literature in Karnataka, Kerala theatrical tradition. Languages of expertise: Kannada, Malayalam, Sanskrit.