Informazioni personali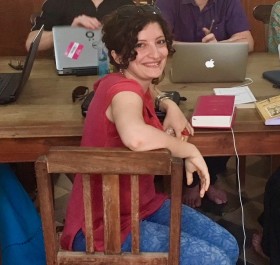 Florinda De Simini
Professore associato
Università degli Studi di Napoli
Florinda De Simini (b. 1983) is associate professor for Ancient and Medieval History of India at the Dipartimento Asia, Africa e Mediterraneo of the University of Naples "L'Orientale". After getting a PhD in Indic and Tibetan Studies from the University of Turin (2013), she has been a postdoctoral fellow at the International Institute for Asian Studies in Leiden (2013) and at the University of Hamburg (2013-14), as well as a "Petra-Kappert-Fellow" at the Centre for the Study of Manuscript Cultures (SFB 950) at the University of Hamburg (2015-16). From 2014 until 2017 she has been responsible for the postdoctoral research project "Political Power and Religious Groups in Early Medieval India: A study of epigraphic materials and unpublished manuscripts concerning the Śaiva traditions (6th to 12th century)", financed by and carried out at the University "L'Orientale". From 2017 to 2019 she has been research fellow at the same institution.
Her scholarly interests encompass the history of Śaivism through written sources, South Asian epigraphy in Sanskrit and Kannada, as well as the cultural aspects of the production and transmission of handwritten documents in South Asia. Besides this, she has also studied Sanskrit normative literature (Dharmaśāstra) and the reception of South Asian religions in the West.
From December 2018 she is Principal Investigator of the 5-year ERC-starting grant project "Translocal Identities: The Śivadharma and the making of regional religious traditions in premodern South Asia" (acronym: SHIVADHARMA), while from May 2019 she acts as the scientific coordinator at the University "L'Orientale" for the 6-year ERC-Synergy grant project "The Domestication of Hindu Asceticism and the Religious Making of South and South-East Asia" (acronym: DHARMA).